1 Day Guided Sea Kayak - Queen Charlotte Sound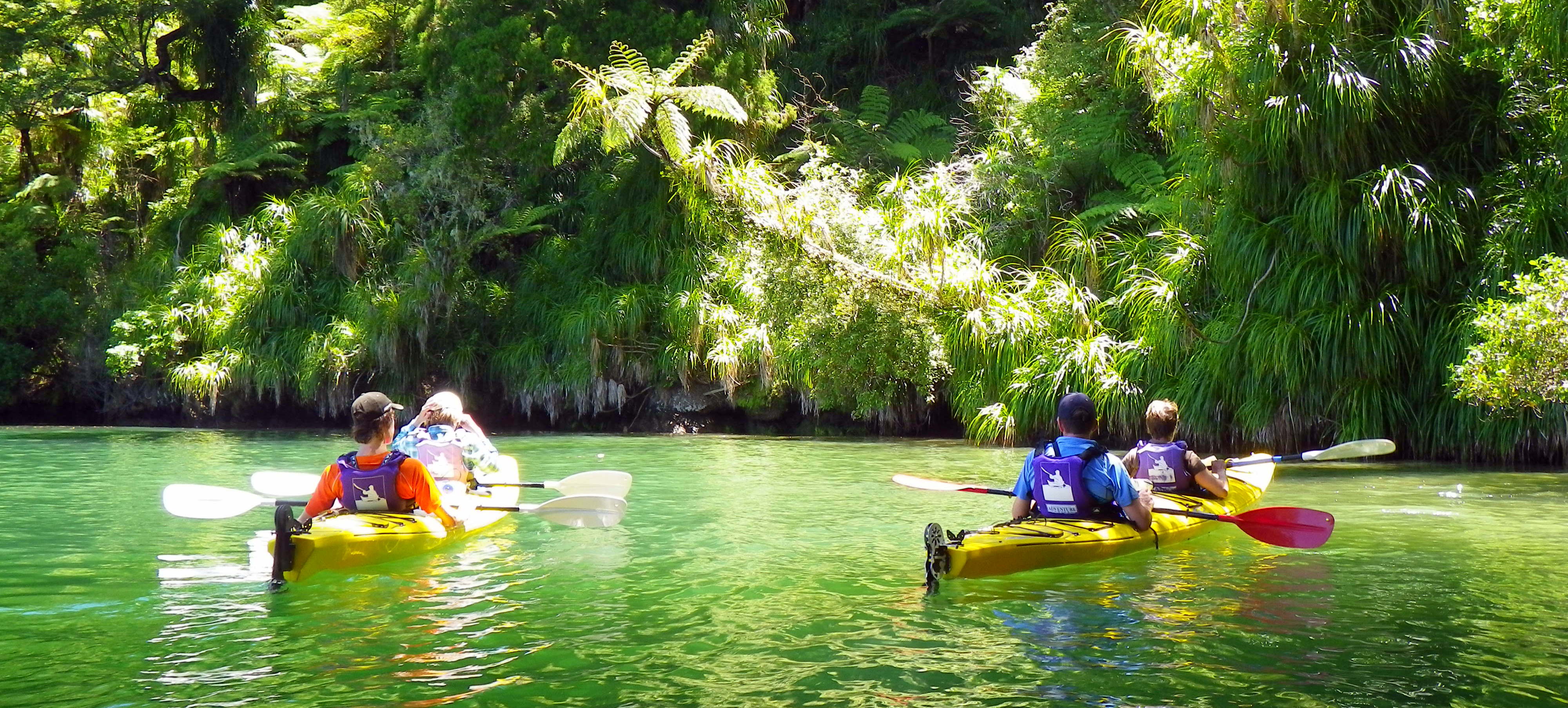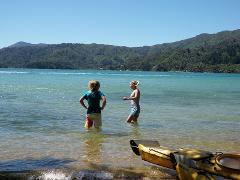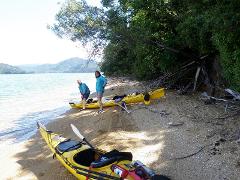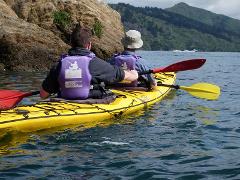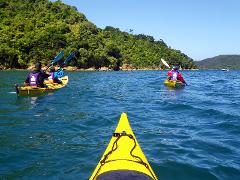 Duration: 1 Days (approx.)
Product code: QCDT
Meet your guide at our base on the Picton waterfront at 8.45am. After a quick safety briefing and form filling exercise, you launch from the Picton foreshore.
Paddling up the eastern foreshore of the harbour, you will quickly become familiar with the rhthym of sea kayaking. As you make your way into the Grove Arm of the Queen Charlotte Sound, you will pass bush clad shorelines that dominate the area.
After an hour or so of relaxed paddling, it is time for morning tea on a secluded sandy beach.
Feeling refreshed and invigorated, it is time to paddle across the Sound to the pristine shorelines of the western foreshore of the Grove Arm. Your guide enjoys sharing the fascinating history, wildlife and Maori legends of the area. We stop for lunch at one of the local bays, enjoying the peace and tranquility of this remote location.
After lunch head down towards Anakiwa and home to the Outward Bound school, paddling past nesting cormorants and maybe a seal or two.
Your day ends at Ngakuta Bay where you board a van for a 15 minute ride back to Picton, returning to our base at around 4.00pm.
Departs daily, from 1 October to 30 April each year, subject to a minimum of two people.
A winter option departing 10.00am returning 3.00pm is available from 1 May to 31 September each year.
If you are travelling on your own please contact us, as others may already be booked on this trip.
Trip must be pre-booked by 9.00pm on evening prior to day of departure, to ensure availability. Please phone trying to book on morning of departure.
Personal Equipment

We recommend you wear or bring:

Sun protection
T-shirts and shorts for warmer weather
Polypropylene or wool clothing – not cotton (if paddling from May to October)
Warm wool or fibrepile jersey or jacket – not cotton.
Windproof jacket. We do have paddling jackets available which (while not waterproof) protect against the wind
Camera – we have dry bags for your cameras
Shoes or sandals suitable for getting wet (we can supply these, if required)
A smile
Frequently Asked Questions
I have never kayaked before, can I still do this trip?
Yes, many of our clients have never sea kayaked before but find it really easy to do.
I can't swim, will I be okay?
Yes, you will be wearing a buoyancy aid and you will be travelling in a party with a guide, so the chances of you capsizing and falling out of your boat are minimal. Your guide will have provided you with a briefing on what to do if you do capsize.
Will I be back in time to catch a ferry or bus?
Yes, we can drop you straight to the ferry or bus terminal, if required.
Do I need to be fit to enjoy this trip?
We recommend that you are at least of average fitness to enjoy this trip. You may feel a little tired in your shoulders after a day's paddling, but we do have stops along the way and the pace is gentle.
What if it gets windy when I am out there?
Our trips are flexible enough that we can change the itinerary to meet the weather conditions. Ideally we try to organise the day so that the wind is at your back as much as possible. However, as with any outdoors experience, there may be times when you are required to paddle in windy conditions. If this is the case, then we try to minimise the time that you will be paddling into the wind.
Can my children join the kayak trip?
The minimum age for this trip is 14 years old. Families with younger children can be catered for upon request – please contact us directly.

Will we be in single or double kayaks?
Double. If you are a solo traveler or there is an odd number in you group you will be paired up with someone else or the guide.