5 Day Guided Walk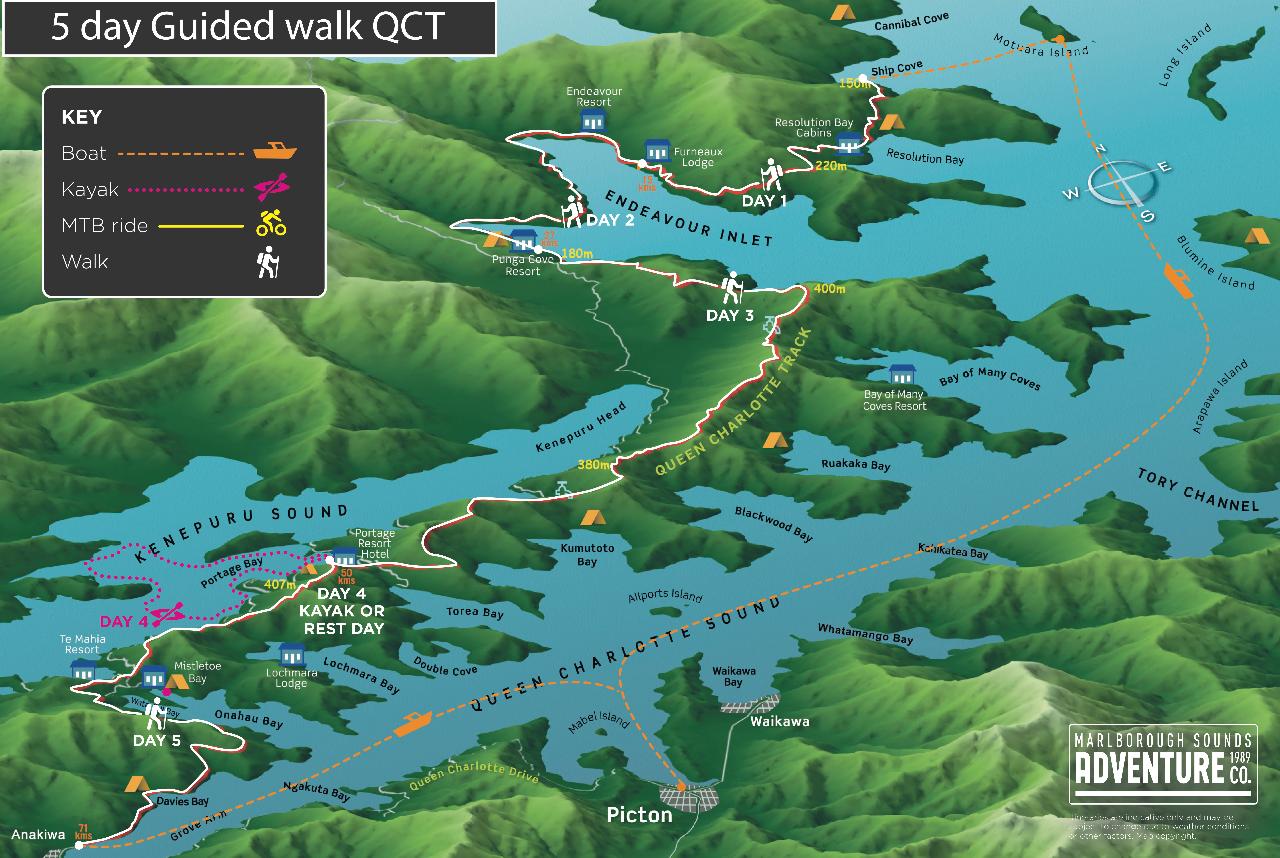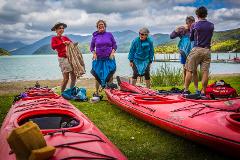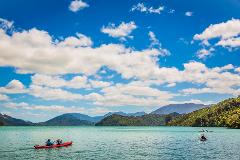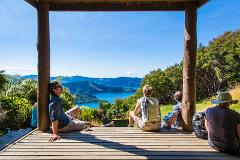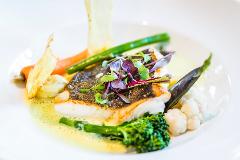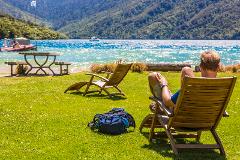 Our 5 Day Guided Walk on the Queen Charlotte Track is a true walking holiday. These five days will see you experience the splendour of the whole Queen Charlotte Track – from start to finish, and enjoy a rst day at Portage Resort Hotel. You can either rest and relax at the hotel for the day, or take a day's guided sea kayaking. Highlights of the track include breathtaking coastal views and continually changing landscapes as you walk from shoreline to ridgeline and around bays, coves and inlets. The track will take you through virgin native bush and regenerating farmland, with beautiful native birdsong as background music.

You will have the opportunity to experience extraordinary birdlife encounters, witnessing the endangered South Island Saddleback and South Island Robin in their natural habitat as part of our customised eco-tour of Motuara Island. There'll also be the possibility of seeing dolphins and other marine wildlife along the way.
At the end of a long day, you will enjoy the comfort and hospitality of resort accommodation, in their superior hotel style rooms with en-suite bathrooms. Strategically located along the track, these resorts provide a comfortable bed, delicious meals and a spa pool to relax in. What better way to rest those weary feet.

One of the other wonderful features of this trip is that you don't have to carry your pack. We can provide you with a light daypack and your luggage will be transported by water transport each day.
Itinerary
Day 1 Approximate walking time is 5 – 6 hours. Walking Distance: 17kms

Your trip begins with personalised eco-tour with our guides on board a Cougar Line catamaran. During the morning your guide will share their knowledge of the sea birds and marine mammals as you travel to Motuara Island in the outer-Queen Charlotte Sound. Here you may have the opportunity to see the rare South Island Saddleback and South Island Robin who have been re-colonised on to this island sanctuary.
From Motuara Island you will cross the Sound to be dropped off at Ship Cove where you will begin your walk on the Queen Charlotte Track. Ship Cove is one of the most historic areas in the Sounds as it was one of James Cook's most popular destinations on his many world travels. The area is surrounded by bountiful virgin bush and the walk to the top of the ridge provides spectacular views. As you make your way down into Endeavour Inlet, you will spy Furneaux Lodge, your first night's accommodation.
You will stay in twin share Studio Suites.
Dinner will be served in the restaurant with a glass of wine.
Day 2 Approximate Walking time is 4 hours Walking distance: 12kms
After a leisurely breakfast at Furneaux Lodge you may like to take a walk up to the waterfall and see the magnificent stands of virgin native bush. Re-join the track as it winds its way around the coastline to the other side of Endeavour Inlet. Prolific birdsong dominate the day as you walk through some regenerating and virgin native bush.
Your accommodation this evening is at Punga Cove Resort in twin share chalets.
Dinner is served in the restaurant with a glass of wine.
Day 3 Approximate walking time is 8 hours. Walking distance: 24kms
Today you walk from Punga Cove to the Peppers Portage along the ridge between Kenepuru and Queen Charlotte Sound. Spectacular views dominate the day as you negotiate the very undulating ridge between the two sounds. This section is considered the most difficult on the track and clients do need to have a good level of fitness to enjoy this walk.
There is the option to take water transport from Punga Cove to Peppers Portage for those who require a rest! Upon your arrival at the Peppers Portage, you can rest and enjoy the view overlooking the Keneperu Sound.
You will be staying in twin share Hillside suites, and dinner will be served in the restaurant with a glass of wine.
Day 4 Rest day or sea kayaking
Today you can sleep in,
rest, relax and enjoy the leisure activities around the Portage Hotel. If you feel like a little more activity you
may like to go fishing, play golf on the local rural golf course (a unique
experience!) or go sea kayaking for the day with your guide. Join this intimate paddling experience in the
Kenepuru Sound, the smallest of the three sounds. As you paddle from the Portage Bay you may
visit a mussel farm, paddle past a shipwreck from a bygone era, or experience a
chance encounter with dolphins. You will
have time to stop on a tranquil beach where you can enjoy a leisurely lunch, go
for a swim or a short bush walk, before paddling back to the Portage bay
foreshore. No experience is necessary to
enjoy this trip and your guide will ensure that you have a fun, safe sea
kayaking experience.
Day 5 Approximate walking time is 7 hours. Walking distance: 20kms
Your final day on the Queen Charlotte Track, today you will ascend to a ridgeline track providing wonderful vistas of the Sounds as you walk along. After Mistletoe Bay, the track sidles along the hill and drops down into Davies Bay before the last half hour through mature beech forest ending at Anakiwa where your water transport will collect you for your return to Picton.
Arriving in Picton at around 4.30pm, you can enjoy a farewell get together at our base, with a relaxing drink and reminisce over the magic of the last four days.


Booking Payment - Terms & Conditions
A non-refundable deposit of $100 per person is required to confirm your booking. Final payment is required 30 days prior to departure date. Cancellations received 30 days and up to 7 days from day of trip departure - 50% of trip value refund. Cancellations received 7 days or less from date of departure - no refund. We have requested your credit card details but these are not automatically debited, they are held in our secure "vault" within our reservations system and we manually process these transactions upon confirmation. By providing your credit card details, you authorise us to debit the required amount as agreed and confirm you understand our terms and conditions.
We do understand that cancellations can occur due to illness or unexpected events. Therefore we strongly recommend that you take out comprehensive travel insurance.

Further Information

Upon booking our confirmation email includes detailed pre-trip information.
However, if you would like to know what we recommend you wear or bring on the walk, read on:
Strong (broken-in) walking shoes, preferably walking boots
Camera
Sunhat, sunscreen, sunglasses
Insect repellent
Cotton shirts and shorts
Good rainproof jacket (not just showerproof)
Warm wool or fleece jersey/sweater
Money for possible purchases
Bathing gear
Nightwear
Toiletries
Handkerchiefs – not tissues
Casual change of clothes for the evening
If walking in early spring or late autumn we recommend you also include the following:
Woollen socks, hat and gloves
Warm wool or fleece pants
Warm wool or polypropylene shirts
Frequently Asked Questions
What time does the trip leave Picton on the first day, and return to Picton on the last day?

The walk departs on the first day at 9.00am from our office. Therefore we recommend that you stay in Picton the night prior to departure. We are happy to collect you from your accommodation on the morning of departure and this usually occurs between 8.15am and 8.30am, by prior arrangement. On the last day you return to our office at around 4.30pm. There is plenty of time to catch the 6.00pm ferry to Wellington if required, or a flight out of Blenheim (25 minute shuttle ride from Picton).
Is water available on the track while walking?
Drinking water is available at strategic places on the track. Please note however that this water is not regularly tested. We recommend that you walk with your own bottle that holds approximately 1 litre or more which can be topped up each evening at your accommodation.
When is the best time to walk?
The warmest months are December, January and February (summer), and the coldest are June, July and August (winter). In summer, the average maximum temperature ranges between 20-30ºC, and in winter between 10-15ºC.You can check on weather conditions in New Zealand on the New Zealand Met Service website: www.metservice.com
What is the difference between the guided and freedom walks?
The guided walks have some added extras that are not included in the standard freedom walk package, such as:
a knowledgeable guide, who can ensure you see all the highlights
a customised eco-tour experience
all meals are included
upgraded accommodation
post-trip functions
We believe that these added extras provide another dimension to this walking holiday.
We recognise that some people prefer a complete walking holiday, sharing their experience with a group of like-minded people from all over the world and therefore the guided option is the best one. We also appreciate that some people prefer to be independent and walk on their own, or with their group of friends only, therefore we also offer a "freedom" option.
How fit do you have to be to walk the track?
The track is regarded as a "long" track not a "steep" track. Therefore distances each day, particularly on the third and fourth day are long, but if you are moderately fit you should be able to achieve this walk. We do recommend that to enjoy the trip you are of at least average fitness. Fitness levels vary amongst every individual, therefore we suggest that – as a guideline – if you are walking for at least an hour (maybe two) more than four times a week, you should be able to thoroughly enjoy this trip.
Do we have to carry a big pack?
No. It doesn't matter if you are freedom or guided walking, you only ever have to carry a light day pack because your luggage is transferred each day by water taxi.
Are there Department of Conservation huts to stay in?
No. There are no Department of Conservation (DOC) huts on the Queen Charlotte Track. However, there are resorts, homestays and DOC campsites that you can stay at.