Sea Kayak Rental - One & Multi Day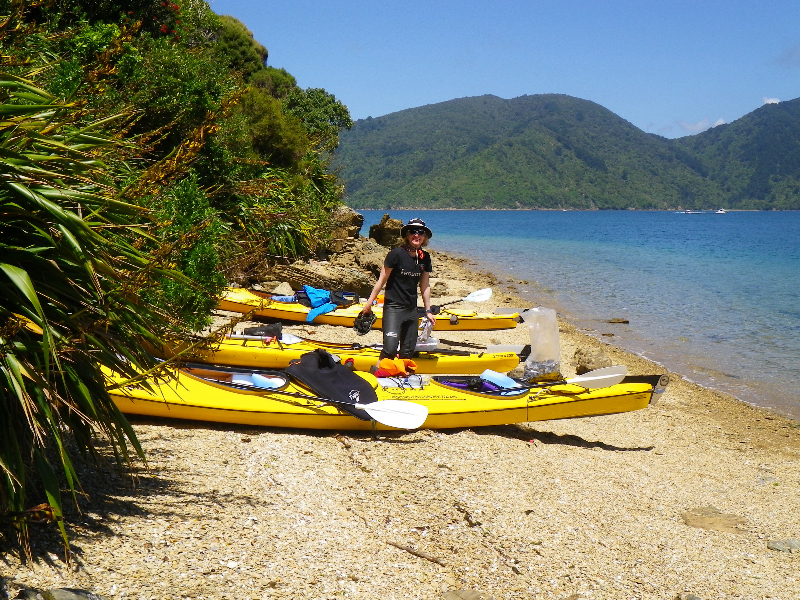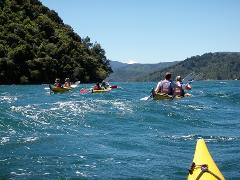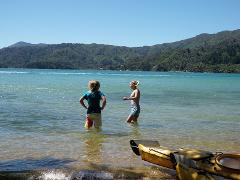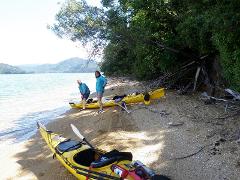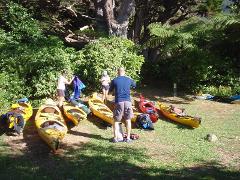 From Picton, there are an infinite number of options for kayak trips in the Sounds. These options range from easy, relaxed cruising to adventures for the experienced expeditioner.
With over 50 Department of Conservation campsites within the Sounds, and over 1500 kilometres of sheltered coastline, there is plenty of space. Paddlers also have the option of using some of the various lodges dotted around the Sounds. We recommend that you don't plan your itinerary until you have your safety briefing with us. At this time our staff will assess your skills, the weather and suggest the best options for your group.
Wildlife in the Sounds is prolific. At various times of the year there are dolphins (including the rare Hector's dolphin), seals, whales, not to mention a wide array of birds like gannets, little blue penguins and various native land-based species. Other rare species include the Little Spotted Kiwi, King shags, saddlebacks, tuatara lizards, and the carniverous snail Polliphanta.
There are magnificent stands of native podocarp forest, and also areas which were originally cleared for agriculture and which are now largely regenerated.
Sea kayaking in the Sounds is very different to other areas of New Zealand, and in fact, the world! The large expansive waterways mean that you can really get away from it all, but still enjoy the small luxuries such as water-taxi pick up if required – or you can call into a resort for a cup of coffee if you want to!
As New Zealand's oldest sea kayaking company, our knowledge, expertise, equipment and service are unsurpassed. Get in touch with us to talk through the best options for your timeframe and skill level.
To give you an idea of some of the options, here are some of the best routes (starting from the easiest and going through to the more challenging):

The Grove Arm of the Queen Charlotte Sound. Paddling from Picton for one or two days. This area suits family groups, and those wanting a fairly easy paddling trip. It offers a good range of campsites, nice native bush, walking tracks and options for accommodation.
The Queen Charlotte Sound to Ruakaka Bay. A good two or three day trip. Perhaps including the Grove Arm, but also Kumutoto Bay, and the Ratimera campsite with it's lovely sandy beach and native bush.
The Kenepuru Sound. There are a number of good campsites, and some good accommodation places.
The Outer Queen Charlotte Sound. Allow a minimum of three days (but preferably four or more) to see this area. Perhaps use a water taxi to take you one way in order to spend more time in the outer area. This is arguably the most interesting paddling area in the Sounds, with a real feeling of remoteness, and some of the best campsites. Special places include Captain Cook's monument at Ship Cove, the bird sanctuary at Motuara Island, the marine reserve at Long Island and Blumine Island.
Tennyson Inlet to Moetapu Bay, or Picton via Portage. Tennyson Inlet is beautiful, with it's heavy native bush, and tranquil bays. The drop off is about 2 hours 30 minutes from Picton, and you need at least five days to do the (one-way) trip back. Conditions can be difficult at times. There is much to see in the outer Pelorus Sound and through the area around Nydia Bay.
The Kenepuru Sound is worth a couple of days exploring if there is time. Transport of gear to the Queen Charlotte Sound at Portage can be arranged at a small cost.
Our Kayaks
We have large, stable, fibreglass double sea kayaks and durable, plastic singles.
Included with sea kayak rental are:
buoyancy aid
paddles
spare paddle
flare
map
sponge
water pump
paddle jacket
dry bag for cameras (all other gear goes into plastic bags in hatches with two covers)
When you book your trip, we will send you some detailed pre-trip information. However, to give you an idea of what we recommend you bring:
Personal Equipment
We suggest you include all of the items in your personal gear. It is not an exhaustive list, but is the 'essential' gear you shouldn't do without. Pack it in plastic bags, or dry bags. A number of smaller bags are easier to pack than one or two larger bags.
Two changes of warm clothing (wool or polypropylene, not cotton) – one suitable for adverse paddling conditions, and one for on-shore.
Warm hat & gloves
Raincoat or parka (for example, a nylon windbreaker)
Windproof jacket, suitable for paddling
Spare plastic bags
Sunscreen
Sunglasses
Sunhat
Insect repellent
Rubber sandals, sandshoes, or neoprene booties for wearing while paddling
Optional: long wetsuits for cooler months
We are unable to hire to solo paddlers so you must have a minimum of two people for any sea kayak rental.
Sea kayak rental briefings occur around 8.30am each day. Other times by arrangement and subject to base guide and gear availability - please enquire.

Rental period is based on a day/s and starts around 9.00am to 4.30pm on the last day of your rental.
For one day rentals, allow at least half an hour for safety briefing and gear fit-out before departing. For multi-day rentals, allow up to 1.5 hours for safety briefing and packing.
Experience Level
Some sea kayaking experience is preferred although not essential for these trips. If you have some water-based experience e.g. windsurfing, sailing, canoeing, river kayaking, then this is useful. When you arrive at our office, we will talk through your experience, as part of the safety briefing. If our guide believes that your experience is insufficient to hire a sea kayak independently then we may recommend a better alternative for you. If you are unsure if your experience level is sufficient, then please contact us to discuss this.

Minimum age is 13 years old for rentals, although we can make allowances for younger age groups upon request.

How to Book

Please enquire for the date you would like to hire. A credit card will be requested. No deposit will be debited from your card, as full payment can be made at our office upon departure. Cancellation must be received 24 hours prior to departure or full trip value, per person, will be debited from your card.

There are no refunds after your rental period has started. This includes Freedom Rental parties that return before their period of hire has run it's full course for whatever reason.
Refund Policy
Our policy is not to launch a freedom rental on safety grounds if we consider that the wind and sea conditions are unsafe for that group. This is our decision. In this situation we give a full refund.
If the forecast is for improving weather, we will ask you can accept a delayed start, or reschedule. There are no refunds after your trip or period of hire has started if you return before the period of hire has run its full course for whatever reason.
Our Commitment to Safety

We are members of Sea Kayak Operators Association of New Zealand and abide by their code of practice.

This ensures that our clients receive the highest quality advice and equipment available. We do not rent to solo paddlers.
Frequently Asked Questions



How do I know if I had enough experience to go sea kayaking with my friends?
Sea kayaking, like any water activity, has inherent risks. Kayak rental is available to people with outdoor experience, preferably in water activities. Every group must have an experienced person who is familiar with marine environments, and is able to anticipate and deal with adverse conditions, if they develop. On the morning of departure we will provide a full safety briefing which covers area such as weather, itinerary planning, on-water skills, capsize and re-entry. For inexperienced groups it's a good idea to hire a guide for part, or all, of your trip – or join our One Day Trip for your first day, and use it as a training day before heading off independently.
How much can I take in my sea kayak?
The double sea kayaks can take the equivalent of one large backpack and a half, per person. You can normally take fresh food for up to three days and it will remain fresh and edible. Single kayaks take approximately the equivalent of one pack per person.
Can I hire a sea kayak and camp out overnight on my own?
For safety reasons, we are not able to rent to solo paddlers.
Can we plan our itinerary now so that we can get organised?
We always recommend that people discuss their itinerary options with their guide during their safety briefing. At that time we can assess the weather forecast, the group's abilities and, from this, recommend a suitable itinerary to meet your needs. Therefore it is a good idea to not plan your itinerary until the day of arrival.
Can we find our own campsites or do we have to use Department of Conservation campsites?
We strongly urge all our clients to use the Department of Conservation (DOC) campsites as this ensures that we are all protecting our environment. Also, in most cases, the DOC campsites are in the best spots in the Sounds anyway. We sell tickets for DOC campsites at our office.
Can I catch a water taxi to the Outer-Sounds and paddle back?
If you haven't paddled in the Marlborough Sounds before, we always recommend that you paddle from Picton to the Outer Sounds. This means that you will be feeling more comfortable with the conditions by the time you reach the more exposed Outer Sounds. It is not a problem to organise water transport for your return to Picton.