New - 2 Day Explorer - Lodge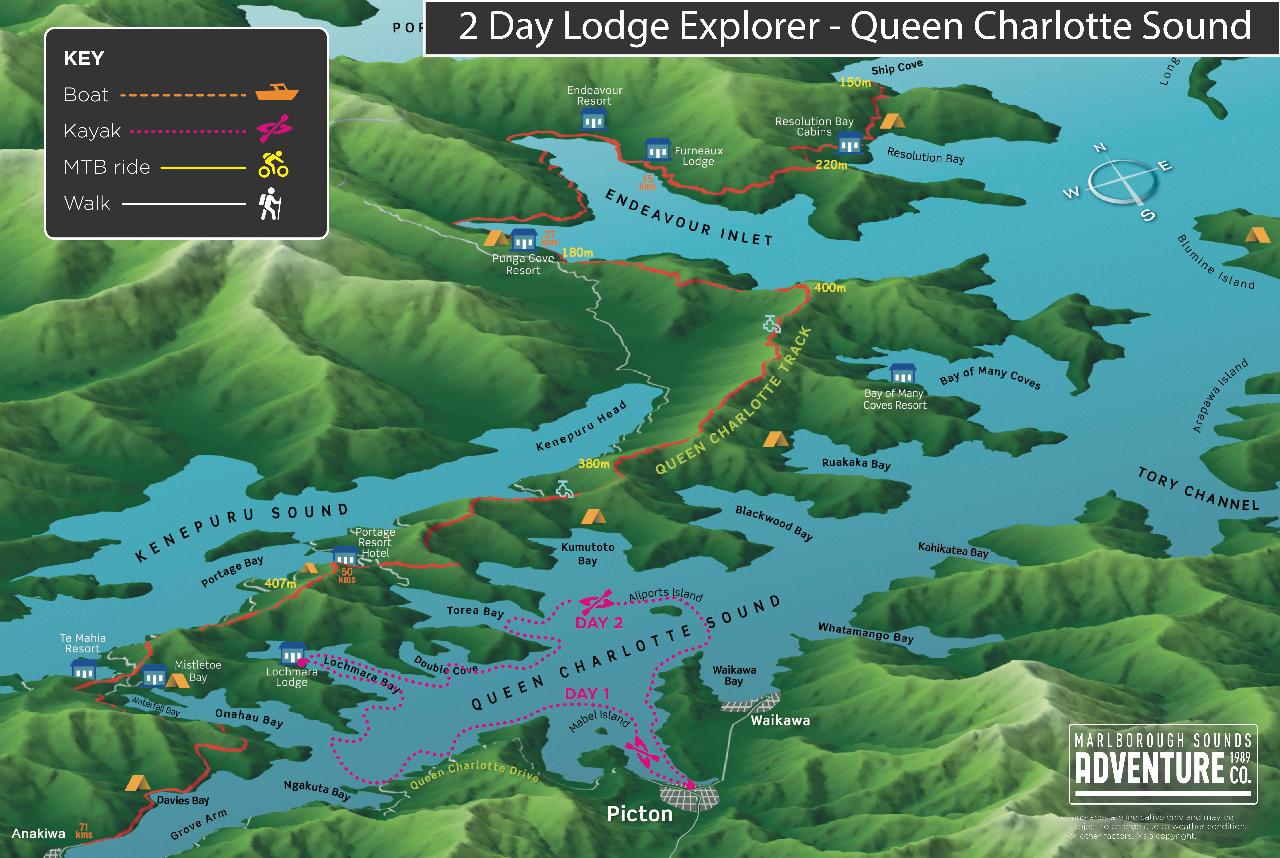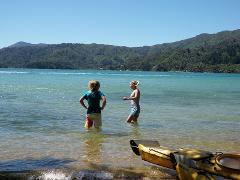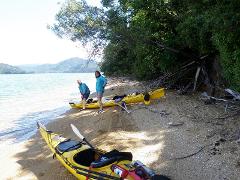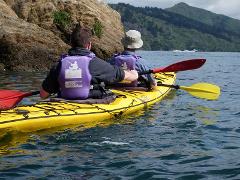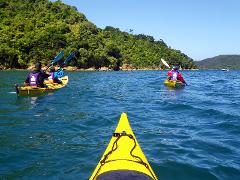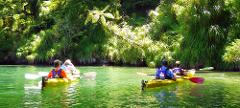 An ideal combination - guided and independent sea kayaking. On the first day you join the guided day trip departing at 9.00am from the Picton foreshore. Your guide will take time to assist you with your paddling skills, share their knowledge of the abundant wildlife and natural flora as you paddle along. There is also a chance to learn about some of the more interesting historical stories from the area. At around 2.00-3.00pm you will leave the group and head to your accommodation at Lochmara Lodge. Your guide will discuss this with you during the day.
A minimum of 2 people is required for this trip. Clients are required to meet at our office by 8.15am on morning of departure to pack your boat prior to day trip clients arriving.
Set in the native bush-covered hills on the tranquil shores of the Queen Charlotte Sound, Lochmara Lodge has a range of accommodation, from twin and double ensuites, one and two bedroom units through to new luxury chalets. Unique and breathtakingly beautiful, Lochmara Lodge is accessible only by boat or from the world-famous Queen Charlotte Track. You can check Lochmara Lodge out on www.lochmaralodge.co.nz
The next day you make your own way along the Queen Charlotte Sound, taking time to explore the bays, coves and inlets of this wonderful maze of waterways, as you paddle back to Picton by around 4.00pm.
We will provide:
Guide for 1 day
All kayaking & safety equipment
Private en suite accommodation at Lochmara Lodge (No view or Bay View). It is possible to upgrade further – please enquire. Please note, breakfast, dinner and packed lunch for day 2 can be purchased from Lochmara Lodge Cafe
You will need to bring:
lunch and snacks for day 1
change of clothes for evening (this will be transported by boat)
wear, t.shirt, shorts, shoes that can get wet, sun protection
Booking & Cancellation Policy:
We understand that due to Covid19, Governments can unexpectedly impose travel bans that disrupt your plans. We have modified our standard terms and conditions to try and provide more flexibility, should you be affected by changes in government restrictions, while at the same time ensuring that we comply with the terms and conditions required by our suppliers.
Please note that we will be recommending, that should changes be required due to travel restrictions, you transfer your booking to a later date (within 12 months of your booking). There is no fee for change of bookings under these conditions.

Our payment, cancellation and refund policy is as follows:
1. A non-refundable deposit of $100 per person is required to confirm your booking

2. Full payment is required 30 days prior to departure date.
3. Cancellations received 30 to 16 days prior to departure date receive - 75% of total package refunded
4. Cancellations received up to 15 to 8 days from the date of departure - 50% of total package refunded
5. Cancellations received 7 days or less from date of departure – no refund
Travel Insurance
We strongly recommend you take out comprehensive travel insurance. If you are living in NZ, we know it is not commonplace to take out domestic travel insurance, however the investment in your holiday with us can be substantial therefore it is worth considering taking out domestic travel insurance for this purpose. Companies such as https://www.covermore.co.nz/travel-insurance/domestic-travel-insurance are worth considering.